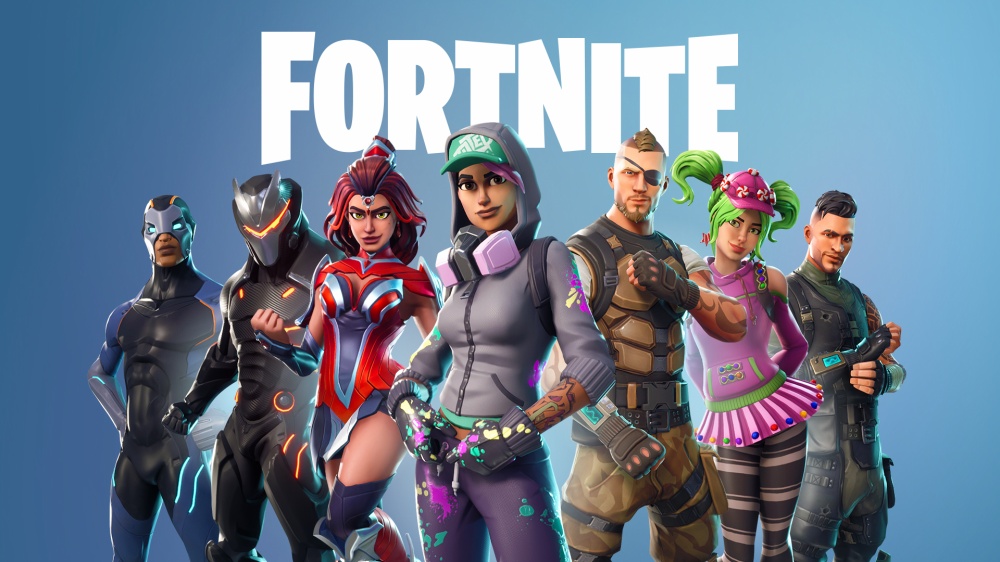 This post summarizes the performance of weapons appearing in Fortnite as a table.
The table also has "search function" and "sort function" so please make use of it.
sponsored links
Description of table
Maximum damage = Damage value with no attenuation of power. (close range)
Medium damage = Damage value in medium range.
Minimum damage = Damage value most affected by attenuation. (Long range)
Headshot is basically given twice the normal damage.
All Weapons
| | Rarity | Maximum Damage | Medium damage | Minimum Damage | Fire Rate | DPS | Magazine Size | Reload Time | Structure Damage | Structure DPS |
| --- | --- | --- | --- | --- | --- | --- | --- | --- | --- | --- |
| AR(M16) | Common | 30 | 24 | 19.5 | 5.5 | 165 | 30 | 2.3 | 30 | 165 |
| AR(M16) | Uncommon | 31 | 24.8 | 20.15 | 5.5 | 170.5 | 30 | 2.2 | 31 | 170.5 |
| AR(M16) | Rare | 33 | 26.4 | 21.45 | 5.5 | 181.5 | 30 | 2.2 | 33 | 181.5 |
| AR(SCAR) | Epic | 35 | 28 | 22.75 | 5.5 | 192.5 | 30 | 2.1 | 35 | 192.5 |
| AR(SCAR) | Legendary | 36 | 28.8 | 23.4 | 5.5 | 198 | 30 | 2.1 | 36 | 198 |
| Burst AR | Common | 27 | 21.6 | 17.55 | 4.06 | 109.62 | 30 | 2.9 | 27 | 109.62 |
| Burst AR | Uncommon | 29 | 23.2 | 18.85 | 4.06 | 117.74 | 30 | 2.7 | 29 | 117.74 |
| Burst AR | Rare | 30 | 24 | 19.5 | 4.06 | 121.8 | 30 | 2.6 | 30 | 121.8 |
| Burst AR (FAMAS) | Epic | 32 | 25.6 | 20.8 | 4.06 | 130.1 | 30 | 2.5 | 32 | 130.1 |
| Burst AR (FAMAS) | Legendary | 33 | 26.4 | 21.45 | 4.06 | 134.1 | 30 | 2.3 | 33 | 134.1 |
| Scoped AR | Rare | 23 | 23 | 23 | 3.5 | 80.5 | 20 | 2.3 | 25 | 87.5 |
| Scoped AR | Epic | 24 | 24 | 24 | 3.5 | 84 | 20 | 2.2 | 26 | 126 |
| Thermal Scoped AR | Epic | 36 | 36 | 36 | 1.8 | 64.8 | 15 | 2.2 | 36 | 64.8 |
| Thermal Scoped AR | Legendary | 37 | 37 | 37 | 1.8 | 66.6 | 15 | 2.1 | 37 | 66.6 |
| Pump SG | Uncommon | 80 | 56 | 16 | 0.7 | 56 | 5 | 4.8 | 45 | 31.5 |
| Pump SG | Rare | 85 | 59.5 | 17 | 0.7 | 59.5 | 5 | 4.6 | 48 | 33.6 |
| Tactical SG | Common | 67 | 46.9 | 13.4 | 1.5 | 100.5 | 8 | 6.3 | 50 | 75 |
| Tactical SG | Uncommon | 70 | 49 | 14 | 1.5 | 105 | 8 | 6 | 53 | 79.5 |
| Tactical SG | Rare | 74 | 51.8 | 14.8 | 1.5 | 111 | 8 | 6 | 55 | 82.5 |
| Heavy SG | Epic | 73.5 | 51.45 | 14.7 | 1 | 73.5 | 7 | 5.9 | 79 | 79 |
| Heavy SG | Legendary | 77 | 53.9 | 15.4 | 1 | 77 | 7 | 5.6 | 82 | 82 |
| Bolt-Action SR | Rare | 105 | 105 | 105 | 0.33 | 34.65 | 1 | 3 | 105 | 34.65 |
| Bolt-Action SR | Epic | 110 | 110 | 110 | 0.33 | 36.3 | 1 | 2.8 | 110 | 36.3 |
| Bolt-Action SR | Legendary | 116 | 116 | 116 | 0.33 | 38.28 | 1 | 2.7 | 116 | 38.28 |
| Hunting Rifle | Uncommon | 86 | 86 | 86 | 0.8 | 68.8 | 1 | 1.9 | 86 | 68.8 |
| Hunting Rifle | Rare | 90 | 90 | 90 | 0.8 | 72 | 1 | 1.8 | 90 | 72 |
| Semi-Auto SR | Epic | 75 | 75 | 75 | 1.2 | 75.6 | 10 | 2.5 | 63 | 75.6 |
| Semi-Auto SR | Legendary | 78 | 78 | 78 | 1.2 | 79.2 | 10 | 2.3 | 66 | 79.2 |
| Silenced SMG | Common | 22 | 17.6 | 14.3 | 9 | 198 | 30 | 2 | 20 | 180 |
| Silenced SMG | Uncommon | 23 | 18.4 | 14.95 | 9 | 207 | 30 | 2.2 | 21 | 189 |
| Silenced SMG | Rare | 24 | 19.2 | 15.6 | 9 | 216 | 30 | 2.1 | 22 | 198 |
| SMG | Common | 19 | 15.2 | 12.35 | 13 | 247 | 30 | 2.4 | 19 | 247 |
| SMG | Uncommon | 20 | 16 | 13 | 13 | 260 | 30 | 2.3 | 20 | 260 |
| SMG | Rare | 21 | 16.8 | 13.65 | 13 | 273 | 30 | 2.2 | 21 | 273 |
| Compact SMG | Epic | 23 | 18.4 | 14.95 | 11 | 253 | 50 | 3.1 | 23 | 253 |
| Compact SMG | Legendary | 24 | 19.2 | 15.6 | 11 | 264 | 50 | 3 | 24 | 264 |
| Tactical SMG | Uncommon | 17 | 13.6 | 11.05 | 13 | 221 | 35 | 2.4 | 16 | 208 |
| Tactical SMG | Rare | 18 | 14.4 | 11.7 | 13 | 234 | 35 | 2.3 | 17 | 221 |
| Tactical SMG | Epic | 19 | 15.2 | 12.35 | 13 | 247 | 35 | 2.2 | 18 | 234 |
| Drum Gun | Uncommon | 26 | 20.8 | 16.9 | 9 | 234 | 50 | 3.2 | 22 | 198 |
| Drum Gun | Rare | 27 | 21.6 | 17.55 | 9 | 243 | 50 | 3 | 23 | 207 |
| LMG | Rare | 25 | 20 | 16.25 | 8 | 200 | 100 | 5 | 25 | 200 |
| LMG | Epic | 26 | 20.8 | 16.9 | 8 | 208 | 100 | 5 | 25 | 200 |
| Minigun | Epic | 18 | 18 | 18 | 12 | 216 | Possession ammo | 0 | 32 | 384 |
| Minigun | Legendary | 19 | 19 | 19 | 12 | 228 | Possession ammo | 0 | 33 | 396 |
| Pistol | Common | 23 | 17.25 | 14.95 | 6.75 | 155.25 | 16 | 1.5 | 23 | 155.25 |
| Pistol | Uncommon | 24 | 18 | 15.6 | 6.75 | 162 | 16 | 1.5 | 24 | 162 |
| Pistol | Rare | 25 | 18.75 | 16.25 | 6.75 | 168.75 | 16 | 1.4 | 25 | 168.75 |
| Silenced Pistol | Epic | 26 | 19.5 | 16.9 | 6.75 | 175.5 | 16 | 1.3 | 26 | 175.5 |
| Silenced Pistol | Legendary | 28 | 21 | 18.2 | 6.75 | 189 | 16 | 1.3 | 28 | 189 |
| Revolver | Common | 54 | 37.8 | 21.6 | 0.9 | 48.6 | 6 | 2.4 | 54 | 48.6 |
| Revolver | Uncommon | 57 | 39.9 | 22.8 | 0.9 | 51.3 | 6 | 2.3 | 57 | 51.3 |
| Revolver | Rare | 60 | 42 | 24 | 0.9 | 54 | 6 | 2.2 | 63 | 56.7 |
| Hand Cannon | Epic | 75 | 52.5 | 30 | 0.8 | 60 | 7 | 2.1 | 79 | 63.2 |
| Hand Cannon | Legendary | 78 | 54.6 | 31.2 | 0.8 | 62.4 | 7 | 2 | 82 | 65.6 |
| Dual Pistols | Epic | 41 | 30.75 | 16.4 | 3.96 | 162.5 | 18 | 2.8 | 42 | 166.32 |
| Dual Pistols | Legendary | 43 | 32.25 | 17.2 | 3.96 | 170.5 | 18 | 2.7 | 44 | 174.24 |
| Grenade Launcher | Rare | 100 | 100 | 100 | 1 | 100 | 6 | 3 | 375 | 375 |
| Grenade Launcher | Epic | 105 | 105 | 105 | 1 | 105 | 6 | 2.8 | 393 | 393 |
| Grenade Launcher | Legendary | 110 | 110 | 110 | 1 | 110 | 6 | 2.7 | 412 | 412 |
| Rocket Launcher | Rare | 110 | 110 | 110 | 0.75 | 82.5 | 1 | 2.3 | 375 | 281.25 |
| Rocket Launcher | Epic | 116 | 116 | 116 | 0.75 | 87 | 1 | 2.2 | 395 | 296.25 |
| Rocket Launcher | Legendary | 121 | 121 | 121 | 0.75 | 90.75 | 1 | 2.1 | 413 | 309.75 |
Assault rifle
| | Rarity | Maximum Damage | Medium damage | Minimum Damage | Fire Rate | DPS | Magazine Size | Reload Time | Structure Damage | Structure DPS |
| --- | --- | --- | --- | --- | --- | --- | --- | --- | --- | --- |
| AR(M16) | Common | 30 | 24 | 19.5 | 5.5 | 165 | 30 | 2.3 | 30 | 165 |
| AR(M16) | Uncommon | 31 | 24.8 | 20.15 | 5.5 | 170.5 | 30 | 2.2 | 31 | 170.5 |
| AR(M16) | Rare | 33 | 26.4 | 21.45 | 5.5 | 181.5 | 30 | 2.2 | 33 | 181.5 |
| AR(SCAR) | Epic | 35 | 28 | 22.75 | 5.5 | 192.5 | 30 | 2.1 | 35 | 192.5 |
| AR(SCAR) | Legendary | 36 | 28.8 | 23.4 | 5.5 | 198 | 30 | 2.1 | 36 | 198 |
| Burst AR | Common | 27 | 21.6 | 17.55 | 4.06 | 109.62 | 30 | 2.9 | 27 | 109.62 |
| Burst AR | Uncommon | 29 | 23.2 | 18.85 | 4.06 | 117.74 | 30 | 2.7 | 29 | 117.74 |
| Burst AR | Rare | 30 | 24 | 19.5 | 4.06 | 121.8 | 30 | 2.6 | 30 | 121.8 |
| Burst AR (FAMAS) | Epic | 32 | 25.6 | 20.8 | 4.06 | 130.1 | 30 | 2.5 | 32 | 130.1 |
| Burst AR (FAMAS) | Legendary | 33 | 26.4 | 21.45 | 4.06 | 134.1 | 30 | 2.3 | 33 | 134.1 |
| Scoped AR | Rare | 23 | 23 | 23 | 3.5 | 80.5 | 20 | 2.3 | 25 | 87.5 |
| Scoped AR | Epic | 24 | 24 | 24 | 3.5 | 84 | 20 | 2.2 | 26 | 126 |
| Thermal Scoped AR | Epic | 36 | 36 | 36 | 1.8 | 64.8 | 15 | 2.2 | 36 | 64.8 |
| Thermal Scoped AR | Legendary | 37 | 37 | 37 | 1.8 | 66.6 | 15 | 2.1 | 37 | 66.6 |
Shotgun
| | Rarity | Maximum Damage | Medium damage | Minimum Damage | Fire Rate | DPS | Magazine Size | Reload Time | Structure Damage | Structure DPS |
| --- | --- | --- | --- | --- | --- | --- | --- | --- | --- | --- |
| Pump SG | Uncommon | 80 | 56 | 16 | 0.7 | 56 | 5 | 4.8 | 45 | 31.5 |
| Pump SG | Rare | 85 | 59.5 | 17 | 0.7 | 59.5 | 5 | 4.6 | 48 | 33.6 |
| Tactical SG | Common | 67 | 46.9 | 13.4 | 1.5 | 100.5 | 8 | 6.3 | 50 | 75 |
| Tactical SG | Uncommon | 70 | 49 | 14 | 1.5 | 105 | 8 | 6 | 53 | 79.5 |
| Tactical SG | Rare | 74 | 51.8 | 14.8 | 1.5 | 111 | 8 | 6 | 55 | 82.5 |
| Heavy SG | Epic | 73.5 | 51.45 | 14.7 | 1 | 73.5 | 7 | 5.9 | 79 | 79 |
| Heavy SG | Legendary | 77 | 53.9 | 15.4 | 1 | 77 | 7 | 5.6 | 82 | 82 |
Sniper rifle
| | Rarity | Maximum Damage | Medium damage | Minimum Damage | Fire Rate | DPS | Magazine Size | Reload Time | Structure Damage | Structure DPS |
| --- | --- | --- | --- | --- | --- | --- | --- | --- | --- | --- |
| Bolt-Action SR | Rare | 105 | 105 | 105 | 0.33 | 34.65 | 1 | 3 | 105 | 34.65 |
| Bolt-Action SR | Epic | 110 | 110 | 110 | 0.33 | 36.3 | 1 | 2.8 | 110 | 36.3 |
| Bolt-Action SR | Legendary | 116 | 116 | 116 | 0.33 | 38.28 | 1 | 2.7 | 116 | 38.28 |
| Hunting Rifle | Uncommon | 86 | 86 | 86 | 0.8 | 68.8 | 1 | 1.9 | 86 | 68.8 |
| Hunting Rifle | Rare | 90 | 90 | 90 | 0.8 | 72 | 1 | 1.8 | 90 | 72 |
| Semi-Auto SR | Epic | 75 | 75 | 75 | 1.2 | 75.6 | 10 | 2.5 | 63 | 75.6 |
| Semi-Auto SR | Legendary | 78 | 78 | 78 | 1.2 | 79.2 | 10 | 2.3 | 66 | 79.2 |
sponsored links
Submachine gun
| | Rarity | Maximum Damage | Medium damage | Minimum Damage | Fire Rate | DPS | Magazine Size | Reload Time | Structure Damage | Structure DPS |
| --- | --- | --- | --- | --- | --- | --- | --- | --- | --- | --- |
| Silenced SMG | Common | 22 | 17.6 | 14.3 | 9 | 198 | 30 | 2 | 20 | 180 |
| Silenced SMG | Uncommon | 23 | 18.4 | 14.95 | 9 | 207 | 30 | 2.2 | 21 | 189 |
| Silenced SMG | Rare | 24 | 19.2 | 15.6 | 9 | 216 | 30 | 2.1 | 22 | 198 |
| SMG | Common | 19 | 15.2 | 12.35 | 13 | 247 | 30 | 2.4 | 19 | 247 |
| SMG | Uncommon | 20 | 16 | 13 | 13 | 260 | 30 | 2.3 | 20 | 260 |
| SMG | Rare | 21 | 16.8 | 13.65 | 13 | 273 | 30 | 2.2 | 21 | 273 |
| Compact SMG | Epic | 23 | 18.4 | 14.95 | 11 | 253 | 50 | 3.1 | 23 | 253 |
| Compact SMG | Legendary | 24 | 19.2 | 15.6 | 11 | 264 | 50 | 3 | 24 | 264 |
| Tactical SMG | Uncommon | 17 | 13.6 | 11.05 | 13 | 221 | 35 | 2.4 | 16 | 208 |
| Tactical SMG | Rare | 18 | 14.4 | 11.7 | 13 | 234 | 35 | 2.3 | 17 | 221 |
| Tactical SMG | Epic | 19 | 15.2 | 12.35 | 13 | 247 | 35 | 2.2 | 18 | 234 |
| Drum Gun | Uncommon | 26 | 20.8 | 16.9 | 9 | 234 | 50 | 3.2 | 22 | 198 |
| Drum Gun | Rare | 27 | 21.6 | 17.55 | 9 | 243 | 50 | 3 | 23 | 207 |
Light machine gun
| | Rarity | Maximum Damage | Medium damage | Minimum Damage | Fire Rate | DPS | Magazine Size | Reload Time | Structure Damage | Structure DPS |
| --- | --- | --- | --- | --- | --- | --- | --- | --- | --- | --- |
| LMG | Rare | 25 | 20 | 16.25 | 8 | 200 | 100 | 5 | 25 | 200 |
| LMG | Epic | 26 | 20.8 | 16.9 | 8 | 208 | 100 | 5 | 25 | 200 |
Minigun
| | Rarity | Maximum Damage | Medium damage | Minimum Damage | Fire Rate | DPS | Magazine Size | Reload Time | Structure Damage | Structure DPS |
| --- | --- | --- | --- | --- | --- | --- | --- | --- | --- | --- |
| Minigun | Epic | 18 | 18 | 18 | 12 | 216 | Possession ammo | 0 | 32 | 384 |
| Minigun | Legendary | 19 | 19 | 19 | 12 | 228 | Possession ammo | 0 | 33 | 396 |
Handgun
| | Rarity | Maximum Damage | Medium damage | Minimum Damage | Fire Rate | DPS | Magazine Size | Reload Time | Structure Damage | Structure DPS |
| --- | --- | --- | --- | --- | --- | --- | --- | --- | --- | --- |
| Pistol | Common | 23 | 17.25 | 14.95 | 6.75 | 155.25 | 16 | 1.5 | 23 | 155.25 |
| Pistol | Uncommon | 24 | 18 | 15.6 | 6.75 | 162 | 16 | 1.5 | 24 | 162 |
| Pistol | Rare | 25 | 18.75 | 16.25 | 6.75 | 168.75 | 16 | 1.4 | 25 | 168.75 |
| Silenced Pistol | Epic | 26 | 19.5 | 16.9 | 6.75 | 175.5 | 16 | 1.3 | 26 | 175.5 |
| Silenced Pistol | Legendary | 28 | 21 | 18.2 | 6.75 | 189 | 16 | 1.3 | 28 | 189 |
| Revolver | Common | 54 | 37.8 | 21.6 | 0.9 | 48.6 | 6 | 2.4 | 54 | 48.6 |
| Revolver | Uncommon | 57 | 39.9 | 22.8 | 0.9 | 51.3 | 6 | 2.3 | 57 | 51.3 |
| Revolver | Rare | 60 | 42 | 24 | 0.9 | 54 | 6 | 2.2 | 63 | 56.7 |
| Hand Cannon | Epic | 75 | 52.5 | 30 | 0.8 | 60 | 7 | 2.1 | 79 | 63.2 |
| Hand Cannon | Legendary | 78 | 54.6 | 31.2 | 0.8 | 62.4 | 7 | 2 | 82 | 65.6 |
| Dual Pistols | Epic | 41 | 30.75 | 16.4 | 3.96 | 162.5 | 18 | 2.8 | 42 | 166.32 |
| Dual Pistols | Legendary | 43 | 32.25 | 17.2 | 3.96 | 170.5 | 18 | 2.7 | 44 | 174.24 |
sponsored links
Launcher
| | Rarity | Maximum Damage | Medium damage | Minimum Damage | Fire Rate | DPS | Magazine Size | Reload Time | Structure Damage | Structure DPS |
| --- | --- | --- | --- | --- | --- | --- | --- | --- | --- | --- |
| Grenade Launcher | Rare | 100 | 100 | 100 | 1 | 100 | 6 | 3 | 375 | 375 |
| Grenade Launcher | Epic | 105 | 105 | 105 | 1 | 105 | 6 | 2.8 | 393 | 393 |
| Grenade Launcher | Legendary | 110 | 110 | 110 | 1 | 110 | 6 | 2.7 | 412 | 412 |
| Rocket Launcher | Rare | 110 | 110 | 110 | 0.75 | 82.5 | 1 | 2.3 | 375 | 281.25 |
| Rocket Launcher | Epic | 116 | 116 | 116 | 0.75 | 87 | 1 | 2.2 | 395 | 296.25 |
| Rocket Launcher | Legendary | 121 | 121 | 121 | 0.75 | 90.75 | 1 | 2.1 | 413 | 309.75 |